ViewScream
ViewScream is a live-action role-playing game.
It's designed for online play via video-chat or audio-chat software (such as Zoom, Skype, Google Hangouts, Roll20, or Discord).

This collection includes ViewScream 2nd Edition and both expansions (ViewScream 2020 and ViewScream: Distance).
NOTE: ViewScream's zip files contain a 56-page PDF rulebook, 35 adventures in PDF form, 82 PNG overlays, 12 background images, and four MP3 files (used with scenarios that have a time limit). You'll also find other goodies, like an editable template for creating your own adventures.
What's it about?
Three to five players assume the roles of desperate people trapped in a world of high-tech horror: crew members going insane aboard a damaged starship; scientists in research labs, hunted by their own creations; or futuristic data-thieves on the run from soulless security drones.
The characters are separated by quantum anomalies, hostile xenomorphs, or tentacled horrors beyond human comprehension -- and they need to work as a team in order to survive. Since they can't reach one another in person, these characters must communicate by using viewscreens throughout the ship (just as the players communicate via video-chat software). A typical game session lasts 60-90 minutes.
You can watch the trailer here:
https://www.kickstarter.com/projects/rafaelchandler/viewscream-2nd-edition
Watch people play ViewScream on YouTube:
https://www.youtube.com/results?search_query=viewscream&sp=CAI%253D
Here's a review of the game:
https://endzeitgeist.com/viewscream-2nd-edition-unique-game
Will you betray your shipmates? Will you work with them, even though some of them may be guilty of horrific crimes? What happened to the rest of the crew? How many minutes do you have before it happens to you, too? Can you escape, or will someone find your mangled corpse floating in the void?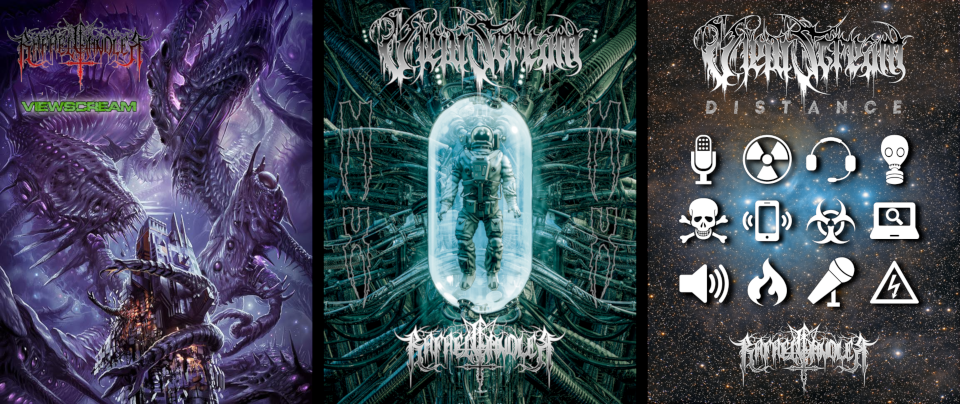 Purchase
In order to download this game you must purchase it at or above the minimum price of $4.99 USD. You will get access to the following files:
ViewScream_2nd_Edition.zip
104 MB
ViewScream_Distance.zip
74 MB
VS_Collection_cover.png
938 kB